This post is several months behind.
My wife came across some Coturnix quail chicks while at Rutledge Flea Market. Just four chicks but enough to give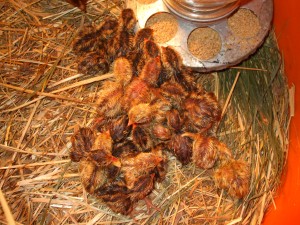 quail a try. We have since hatched 24 quail from eggs given to us by our neighbor.
With all these quail we needed a good home for them. With the abundance of white oak that we get for free from a local stave mill I decided to build it from wood. White oak is very weather resistant and much stronger than pine. It is also much heavier which isn't a downside when your building a small tractor.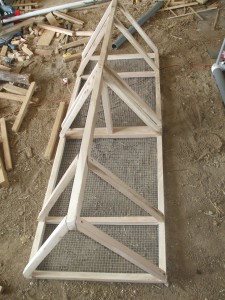 Getting the angles right was the hardest part of the construction job on the quail tractor. I am happy with the results, although for me wood is much more work than PVC, although free is a good motivator for me.
The quail tractor is 6'+ long and a little over 2′ wide. The frame is of Missouri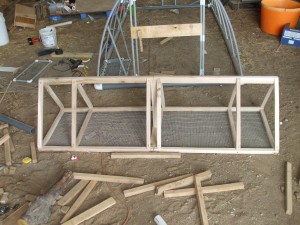 white oak. I divided the cage into two equal sides to house my breeding stock. Each side has 1 1/2″ PVC water and feed silos. The feed tubes/silos hold 1lb of feed. The water tubes/silos hold 1/2 gallon.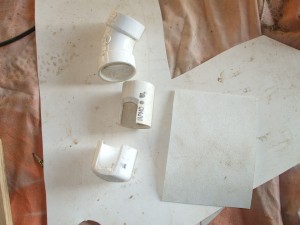 I used 45 degree angles and end caps for the bottom of the feed tubes. A 90 degree elbow will not allow the feed to continue down the tube. I cut the top allowing the birds to have access to the feed. I then used a piece of poly to make a roof over the end of the tube to prevent it from getting wet.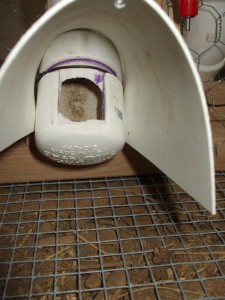 Keeping quail is a lot different than chickens. Free ranging quail just doesn't work. Quail are also much smaller and the chicks can fit th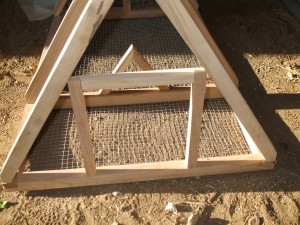 rough 1″ chicken wire. Quail are active at night, and they can fly better than the average chicken.
Using some of the differences to our advantage I installed a walkway solar light in front of
the coop on the quail tractor. The light comes on automatically of an evening and has a small solar panel on top to recharge its batteries during the daylight. These cost $1 at many different stores in my area. Some of the stores that have them for $1 are Walmart, Dollar General, Dollar Tree, and Menards.
The quail being active at night wait around this hanging walkway light when it lights up. Bugs attracted by the light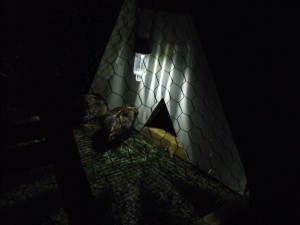 are eaten by the quail. What a great way to get some range food in the diet of a city slicker bird. While I have not tested this my bet is the quails diet is supplemented enough by the bugs they could survive just fine on a lower protein ration.
Another possibility is running the quail tractor through the garden. It would work like a debugging tractor attracting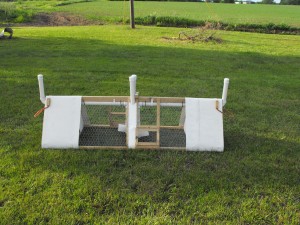 bugs from the garden to their demise. The tractor is narrow enough to fit between rows, so if I have a bug problem this year I will give it a try.
The light is already a proven concept and I have watched my quail eating the bugs attracted by the light. The solar walkway light is an easy way of supplying a light with no maintenance or cords. I highly recommend you try it if you have quail.
My Youtube Video of the Quail Tractor
Farm Updates
My rye field is doing very well. It is about 6′ tall and dense. I am looking forward to harvesting it. I wish my spelt field was doing half as well.