Breeds Currently Available From LFF
See the For Sale page for ordering or follow the links in the description
Shipping only to the continental US
Direct orders are check or money order mailed in to LFF, Ebay and Amazon prices are higher as there are fees associated with selling on those platforms.
Ayam Cemani Chickens: This Indonesian breed of chicken is interesting  as they are all black. Their feathers do have a bit of a dark green sheen, especially roosters and their meat and bones are more of a dark grey. They seem to be as hardy as Rhode Island Reds and other domestic breeds although they are more wild in nature and skittish. I think they would make a good free range bird as they are more aware and much harder to catch than most domestic breeds. I have had several go broody. My stock has come from eight different breeders. They may not be show quality as I do get some with white toenails and rarely some white feathers. $30 for six fertile hatching eggs with priority shipping included for direct orders. LFF Ayam Cemani Eggs on Ebay
. Due to limited availability I will not always have eggs listed on Ebay.
Bielefelder Chickens: Originally from Germany the Bielefelder chicken has some interesting attributes. From birth the chicks can be sexed, this characteristic is rare and is very beneficial. They are a hardy breed well suited to farm life and are very comparable to domestic breeds. $20 for six fertile hatching eggs with priority shipping included for direct orders. LFF Bielefelder eggs for sale on Ebay
. Due to limited availability I will not always have eggs listed on Ebay.
Easter Eggers/Americauna Chickens. The stand out attribute for this breed is the color of the eggs. From light blue to olive and many shades in between. A good hardy breed. I have noticed that the Americauna scratches the ground more than most domestic chicken breeds. I use this breed in my chicken cultivator tractors for this reason. This breed of chicken was originally from Chile. Fertile hatching eggs are available for $18 for six with priority shipping included for direct orders. LFF Easter Egger Hatching Eggs For Sale on Ebay.
Due to limited availability I will not always have eggs listed on Ebay.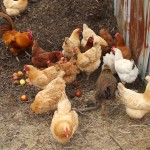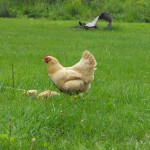 Lewis Mix: How about a lineage of chickens that we have had longer than the farm. Dating back over a decade we have raised these mixed breed chickens for years. Culled for hardiness and ability to feed themselves. During the last several years we have also started selecting for broodiness. Our current flock of mixes has either been a broody mom or been raised by a broody mom. One hen even raised three groups of chicks last year. 12 fertile hatching eggs are available for $20 with priority shipping included for direct orders. LFF Lewis Mix Hatching Eggs For Sale on Ebay
. Will not always have a listing on Ebay due to various demands.
Our Philosophy on Chickens
All the different breeds of chickens we offer live on a working farm setting. We do not pamper, purify or coddle them. They make it on the farm or they leave. We offer them all the food they can eat but select for those with the ambition to gather their own. We select for tough breeds that while often uncommon will do fine in the real world. We make use of chicken tractors and the chickens are often allowed to free range with no confinement. We cull to select the best for our real farm environment.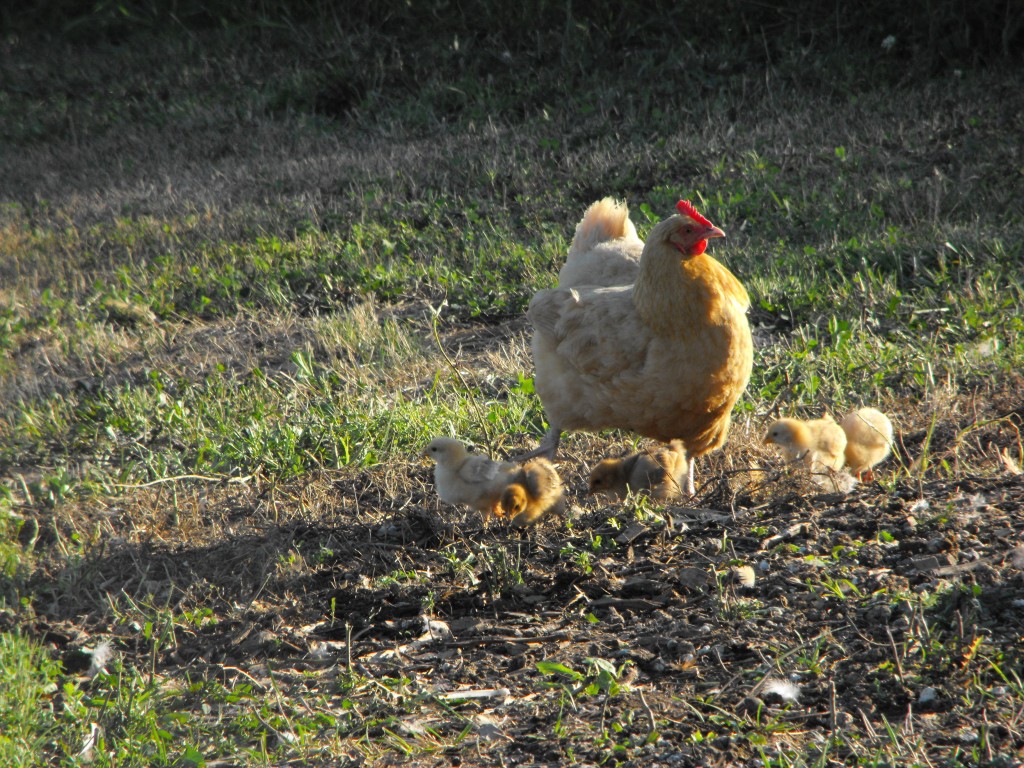 Chickens are the gateway animal to homesteading. I am sure you have heard the parable of the goose who laid the golden egg, well nothing comes as close to that as a chicken.
It is easy and inexpensive to get started with a small flock of chickens to provide all your families eggs as well as a few to share or sell. Every spring and often in the fall many local farm stores get chicks for around $3 each. In several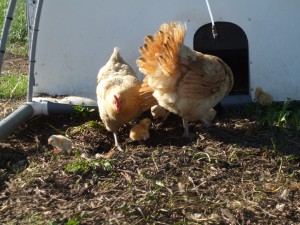 months your chickens will begin to lay eggs.
In my opinion no other farm critter is easier to begin with than a chicken. Chickens are widely available at a low cost and their feed is inexpensive. Chickens will also gladly dispose of your table scraps and return you eggs for payment. Chickens are easy to house and care for. Chickens can be kept on a small plot of land and even in many cities. Why isn't a chicken in every backyard?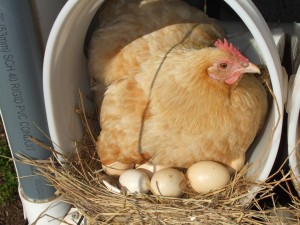 On average my mature hens lay an egg every 2 days or less excluding winter. Doing a conservative estimate my hens will lay their own body weight in eggs within several months (96 days +/-). That is a pretty good return on your investment if you ask me.
We try to give our chickens the best life a chicken could hope for. Most days are chickens are allowed to run free. To protect them from predators we depend on a good guard dog, and some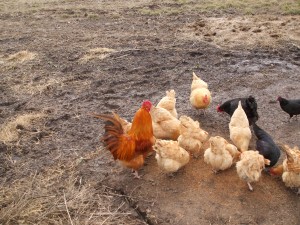 electric fence at times. The chickens are able to go under the fence, but if they need to retreat back the fence is a formidable barrier to predators.
A good guard dog is invaluable when keeping chickens. We are currently relying on a Golden Retriever for this job. In the past we have used Mastiffs, which are my personal favorite.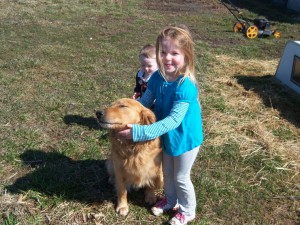 The chicken tractors are often in a paddock with the cattle. This helps keep the insect population down that is attracted by the cattle. This gives the chickens a good smorgasbord of insects. The chickens can leave the paddock anytime they want to range the property.
Our chickens are a mix of heritage breeds. We have been mixing breeds for well over a decade, making a good mutt chicken. Excluding our mutts we have found the Buff Orpingtons to be the closest to an ideal breed for us. We have a little of everything mixed in, and try something new every year.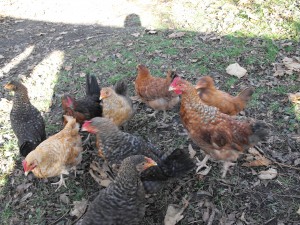 We have come up with what we believe is a great way to keep chickens.  We use large chicken tractors that we build to our own needs. We make them from PVC pipe and Poly Sheets. This was our original design below.
It worked well and was the perfect weight, light enough to move and yet heavy enough to stop predators from going under. It cost about $170 or so dollars with all new materials.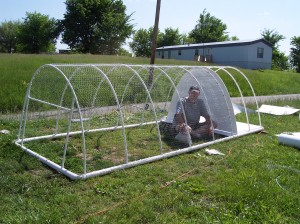 Of course with continuing inflation it will cost more now.
The original chicken tractor worked well, but there were a lot of improvements that could be made. We kept a mental list of all improvements needed for the future tractor. The Original PVC Chicken tractor is still being used on our farm. It has been christened the Old World.
Enter what I consider the ultimate chicken tractor. Again it is built with a frame of PVC pipe. This time we used conduit to be more UV resistant.
Here Is a link to my Youtube video overview of my chicken tractor:
http://www.youtube.com/watch?v=bxNfbjwO6YI
We built the chicken tractor with the idea of easy maintenance and ease of daily chores.
The feed bowls can be accessed from the outside by a door. They are fenced in so the chickens can only get their heads to the bowls, not their butts. This keeps the bowls nice and clean. The bowls stay where they are put, we no longer have to go to the back of the coop to get them. You can easily top up the feed bowls without chickens making a break for it. They set on a screened platform off the ground, that way when you move the coop the feed bowls move with it. We also have a small door across from the feed bowls that directly accesses the run. We use this to throw scraps into the run. This door is also handy if you want to put a chicken back into the coop without opening the big door.We have four nest boxes going down each side of the coop that are made from four gallon buckets. That gives us 8 nest boxes, more than is needed really. They are easily accessed from the outside by a door along the whole side of the coop. The door makes the back of the nest box when closed. Cleaning out the nest boxes is easy, open the door and you can scrape everything out the back.
We built a large door along the back for easy access inside the coop for thorough cleaning or in the event we need access to the inside of the coop.  We made a large window on the front top of the coop. We can see the nest boxes and check on the flock through the front window without having to disturb them. We used heavy poly sheets for siding on the rest of the coop.
For water we designed our own automatic bucket watering system using a four gallon bucket, chicken water nipples, 1/4 poly hose, brass fittings and a toilet valve. It will stay full automatically using an outside spigot or connected to a garden hose. The 1/4″ hose is easy to run down the electric fence we use for cattle paddocks. If you get a hole in the 1/4″ line you will not lose near the amount of water you would if it were a larger hose. The 1/4″ line is much cheaper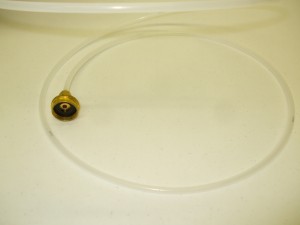 than garden hose, and easier to move around. This is the best water system I have seen. It is always clean and full. The chickens figured out how to drink from the nipples instantly. In the future I plan on doing a video on how to build these watering buckets.
In case you should have a leak in the 1/4″ line it is very easy to splice with the push in splices. I always keep several on hand as the line gets damaged sometimes.
If you are interested in building a similar tractor I have a rough list of materials. These were collected after the fact, so it is just an estimate. I will be building another one this year and I will keep better track of the materials used this time.
The frame is 2″ conduit, I recommend conduit instead of plumbing PVC pipe as the conduit is treated to resist UV degradation.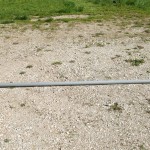 10x 10′ 2″ sticks of conduit
11x 2″ Three ways
4x 2″ Three way corner, special order
6x Four way, special order, or 8x depending on your design
4x 2″ Elbows
The hoops and doors are made from 1/2″ conduit.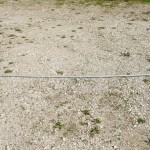 11x 10′ 1/2″ sticks of conduit
20x 1/2″ elbows
3x 1/2″ three ways
5x 1/2″ four way crosses
2 sheets of 4×8 siding or preferably heavy plastic for the doors
3 sheets of 4×8 heavy vinyl
1 8′ corrugated plastic window
I also used three handles, 13 hinges, 9 hook and eyes, 10 eyes and 6 carabiner clips. The front pull rope is used baling twine that I braided into rope. I also used baling twine to tie all the car clips to the cage so they don't get lost. The chicken wire is held to the main frame with nylon wire holders and we use self tapping screws to mount those to the PVC. The vinyl sheets are screwed to the PVC with self tapping screws. We use zip ties to hold the chicken wire to the hoops. I used a heavy pipe that had lawnmower wheel lugs welded to the end for the axle. I used a larger piece of roofing so that there was an overhang on the edges. I think that is everything, I may be off slightly but it will be close.
Where one section of chicken wire meets another we use hog rings to join the sections. We did this because if a large dog attacks the cage and manages to break a hoop the dog will still have to get through the chicken wire. We did this after a Great Dane attacked our tractor one time and broke two hoops. He was able to enter the cage between the sections of chicken wire and we lost 9 chickens.
To get the special fittings you will probably have to order them from the Internet. Below is a list of suppliers, I bought mine from the first link, they are the manufacturer and you have to order four boxes, but it is the cheapest source.
Snap Clamp Supplier Special PVC Fittings
List Of Suppliers from PVCPlans.com
Building the tractor is straightforward. The conduit that we buy comes with one end belled to fit over another piece, we cut the bell off. In our area Menards has the best price on PVC and fittings. The sticks of PVC are 10′ long. The main frame is made of 2″ PVC. The width is half a stick (5′). The open run is one stick long (10′). The coop is 5′ wide and 4′ long. We made it 4′ long in order to get the best use of materials that come in 4'x8′ sheets.
The hoops are made of 1/2″ PVC. We cut the 1/2″ sticks in half. At the top of the run we connect the 1/2″ sticks to crosses so we can run a backbone of 1/2″ down the top of the hoops for strength and to keep the hoops evenly spaced. We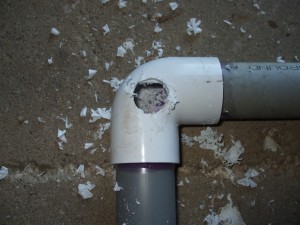 use a paddle bit to drill holes into the 2″ main frame to slide the 1/2″ hoops into. The 1/2″ PVC has to be bent carefully into place as they take a lot of stress being bent into hoops. The chicken wire going over the top of the hoops prevents the ends of the hoops from coming out of the 2″ frame.
The food bowl shelf is made of 1/2″ PVC and chicken wire. The shelf is connected to the main frame on one edge, the other inner edge has pipe running up from it to connect to the hoops to suspend the shelf. A hole is drilled to slide wire through the end and over through the hoop to hold the shelf up. We then wrap the fence wire over the shelf area.
The coop has a frame of 2″ PVC. The vinyl exterior siding is screwed to the 2″ PVC frame using self taping screws. Inside the coop there are a couple of PVC pipe perches that help the chickens get up to the nest boxes along the sides and give them a place to roost. The run is attached to the coop with wire holders and self tapping screws. The top backbone of the run goes into the top perch that is built into the frame of the coop. We drilled a hole through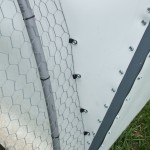 both pieces of pipe and put a wire through them, that way the top backbone pipe cannot be pulled away from the coop.
When making a doorway like the front door or the feed doors we make a triangle from unused pieces of vinyl sheeting to place in the corners of the door frames. This prevents the door from swinging into the run and makes everything stronger.
The few improvements I will be making on the new tractor for this year will be:
1: The side doors will open like barn doors instead of dropping down. This will facilitate cleaning the nest boxes as everything can be scraped right out the back of the nest bucket. This was actually how we planned it originally, but we took a shortcut.
2: It will have bigger tires. The one down side to this coop is its weight. On solid ground it is easy to move around, but if its muddy or on rough ground the going gets tough.
This year we will have to invest in a better incubator. In the past we have used a Little Giant Incubator. Lately we have not had very good luck with this incubator and the time has come to get a better designed unit.
We will be building a brooder out of the original PVC chicken tractor this year, but until then we have had excellent results using a truck camper shell we had lying around. It has side windows that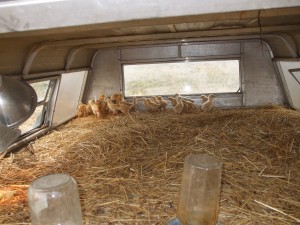 can be adjusted to give the right ventilation and has kept the chicks warm to well below freezing.
 GARDENING WITH CHICKENS / FARMING WITH CHICKENS
Chickens are also useful in another way, they can be put to work. Why have your chickens setting around just providing eggs and meat when they could also be used to prepare garden plots and cultivate between the rows of your garden or small fields.
Chickens by nature like to turn and dig soil. If you park your chicken tractor in one area too long the chickens will scorch the earth denuding it of vegetation. You can use this to your advantage in preparing a garden bed. If you cover the scorched area with some mulch you have a good start to a garden without even turning the ground.
When you use a chicken tractor to prepare garden beds you also get the area debugged and fertilized. It is a good low impact way of prepping a garden area. I then cover the area with several layers of newspaper and mulch. In my area almost every city has free wood mulch and I haul it home by the truck load.
Another good use of chickens is to control weeds between the rows in a custom built PVC chicken tractor cultivator.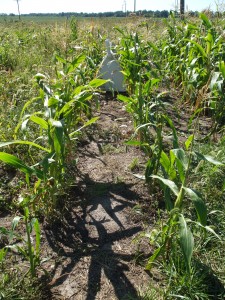 Since my planter is set on 30″ rows I made my cultivator 27″ wide and 10′ long. Not only do the chickens cultivate between the rows for you they also control insects and give you a side dressing of fertilizer.
If you have chickens their really is no need of a compost pile. My food scraps go to the chickens, who compost it for me. It gives the chickens a better diet, and decreases my work. The only scraps I don't give my chickens are chicken meat and scraps which go to the dog. I don't think it is right to feed chickens chicken.