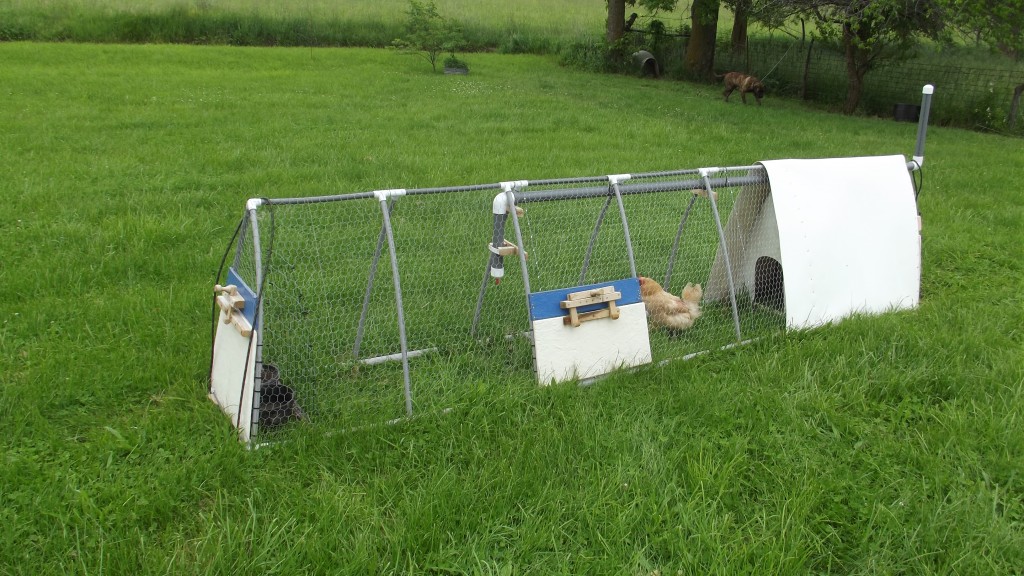 I say small, but for a row crop cultivator this tractor is a yacht. Measuring in at 27″ wide and 13′ long. After proving the concept we had a need for a more refined chicken tractor cultivator for weeding our garden with chicken power. It needed all the standard refinements like a raised and fenced feeding area, a water tube, easy to clean nest boxes, and plenty of doors.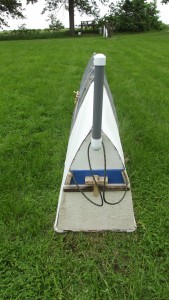 Instead of using our standard pvc pipe framed doors we went with plywood doors and custom latches machined from white oak. Living in Missouri gives us access to plenty of native hardwood at the numerous local sawmills. One such source is free stave pieces. A local sawmill cuts staves for wine barrels, due to a flaw or being to close to the edge many are rejected. These rejects are an inch and a quarter thick up to four foot long and varying widths up to a foot. We have many uses for these prime white oak cast offs. We even built a white oak chicken tractor cultivator and quail tractor with them.
I have never been happy with the carbiner clip and eye system for keeping our doors closed,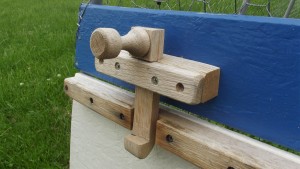 but it was the simplest and cheapest way to go at the time. Well with access to free wood and a Shopsmith to shape it the way I want it new worlds were opened up. The simple drop pin door latch made from white oak will be replacing all other door closing designs for the feed doors. It costs a couple cents for the screws and some time. It speeds up the daily chores and will repay itself with time savings eventually.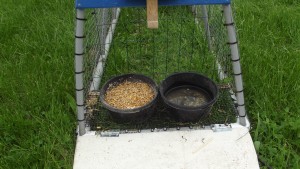 We have tried different materials for the floor of the raised feed shelf. What we have learned is any light gauge wire will fail. On this chicken tractor we went with a fiberglass and plastic hardware cloth for the food shelf. Time will tell if this material is more durable, or if we need to use something else.
Our first design for nest boxes has become the gold standard. The back door creates the back of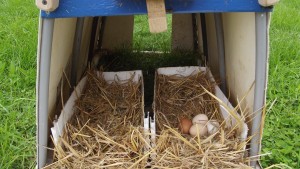 the nest box, and makes it very easy to clean. One bucket split in half makes two nice nest boxes that last years. The Ultimate still has all its original nest boxes after years of service. We have since found nice four gallon square buckets that work even better than the round ones used on the Ultimate.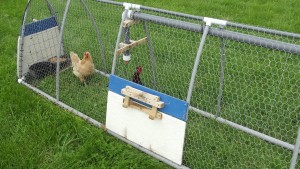 Since we will be having multiple chicken tractor cultivators we decided it was the perfect way to keep our purebred flocks separate during the breeding season. With more than twenty six square foot of space there is enough room to house a small flock. We use one rooster with several hens for each cultivator. We house Silkies, Barred Rocks, Buff Orpingtons, Easter Eggers and Khaki Campbell ducks in cultivator tractors.
Since we will be having chickens living in this tractor it needed a comfortable coop. Since the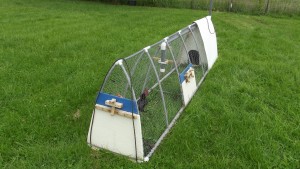 poly sheets come in a four by eight dimension we made the coop a little over three foot long so there was an overhand of poly using it at the full four foot width. This gave the coop a small front porch. This helps to keep the coop dry and the design looks better.
Since the main hp on or farm is and probably will forever be Ford tractors we have decided to paint most of our structures and tools Ford industrial blue and white. A farm color theme for the various structures and equipment. We almost went with Ford red but we just couldn't live with that color. So that is why the doors on our standard chicken tractor cultivator are blue and white.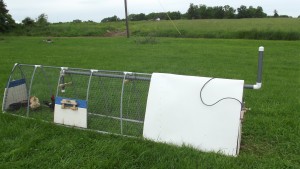 I am very happy with the overall outcome and design of this chicken tractor. It is light weight, yet much heavier than the other cultivator tractors. It is the lightest weight I am comfortable using for the security of the birds. Due to its light weight wheels are not needed and it is easy to move. For future builds I will probably add a set of wheels to the back. If you are looking for a small pvc chicken tractor something like this may be the ticket. No special fittings are needed and construction is straight forward.
This design is based on the chicken tractor cultivator that I did a step by step build list for. It does have some obvious and not so obvious differences. It's side walls are slightly taller at an even three feet. It is also extended for the extra large coop. Here is a link for the post:
Building The PVC Chicken Tractor Cultivator
I have also done a youtube video overview of this tractor:
You may want to check out the free book page if you have not done so in awhile. Here is a list of the new books I have added since last time:
Vegetable Garden Encyclopedia
ABC of Gardening
American Dairying a Manual for Butter and Cheese Makers
American Grape Training
Beeton's Book of Poultry and Domestic Animals
Beginners Book of Gardening
Care and Management of Rabbits
Cattle Their Breeds Management and Diseases
Integrated Agri Aquaculture Systems
Integrated Agriculture-Aquaculture Farming Systems
Farmers Cyclopedia of Agriculture 1904
Household and Farmers Cyclopedia
Successful Farming; A Ready Reference On All Phases of
Farmers Cyclopedia of Agriculture
Gardening for Fun and Food
Biennial Report Kansas State Board of Ag 1913
Farming
Annual Iowa Year Book of Agriculture
Farm Practice in Northeast Missouri
Elementary Agriculture
Principles of Agriculture
Cyclopedia of American Agriculture vol 1
Silvopasture Handbook 2008
Feeding Pigs on Pasture 1924
Pearl Millet 1903 Pamphlet
Cyclopedia of American Agriculture Vol 2-1909
Domestic Animals 1959
Domestic Animals a Pocket Manual of Cattle Horse and Sheep Husbandry 1858
Introduction To Missouri Fishes 2011
Cyclopedia of American Agriculture Vol 3 1922
The Construction of Concrete Fence Posts 1910