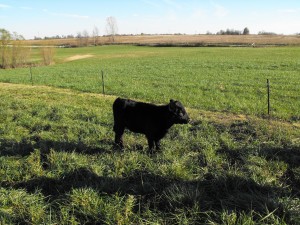 If you are interested in purchasing Dexter Cattle from us please visit the For Sale Page to see what we have available.
How about an investment that will almost double in value every year on average for 12 years? Now add milk for the family as a side benefit as well as a free mowing service. How about richer more productive soils and free fertilizer. Sounds like a good deal doesn't it? That is what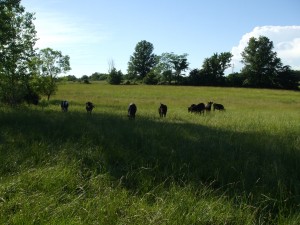 you can have with cattle.
Now I have exaggerated as all this does not come free. There is the initial investment and continual maintenance and care. That initial investment can almost be repaid with the first calf, and will become profitable
with each additional calf thereafter. The feed is minimal as this creature eats one of the most abundant plant forms on earth. This plant is battled weekly in our cities and suburbs to prevent it from overtaking the "civilized" world. We are fighting it with the wrong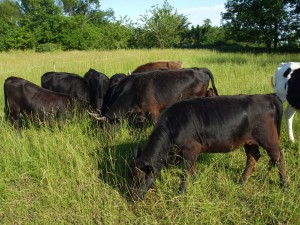 weapon, we should be using cattle.
Cattle are one measure of real wealth, even the bible mentions cattle when talking of wealthy people. Unlike gold and silver cattle are an investment that literally grows, and unlike gold or silver it is an investment that can be quite tasty. A herd of cattle in your field is every bit as valuable as a stocked pantry, maybe more so.
Dexter Cattle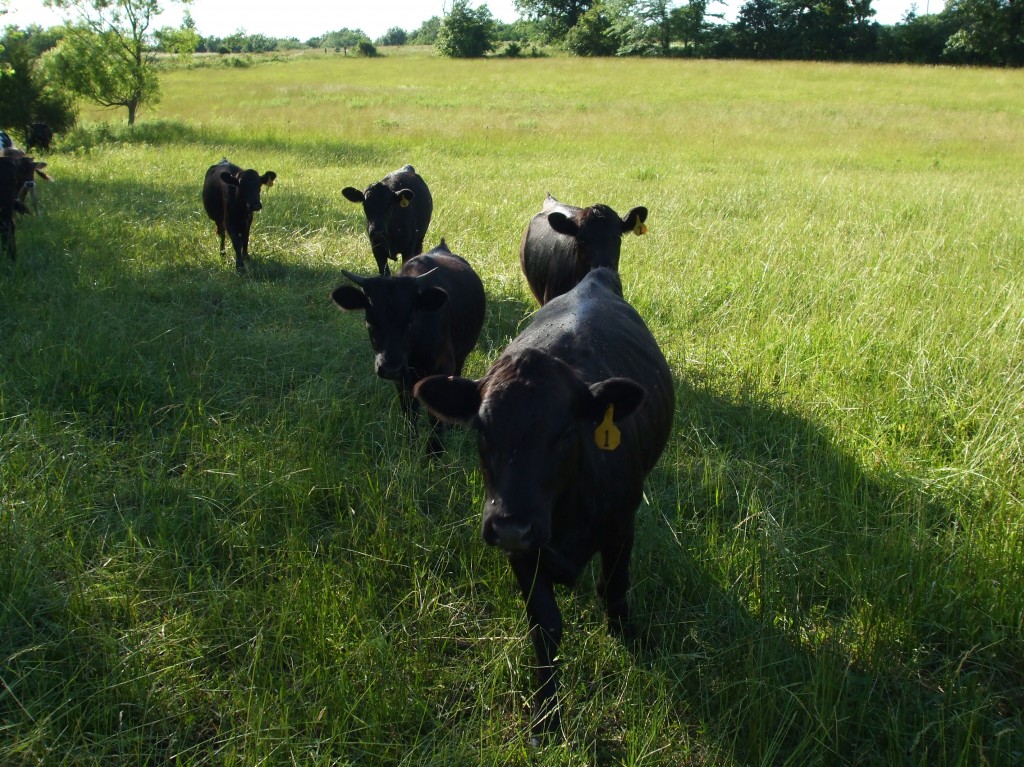 I had researched different breeds of cattle for years. In my area as is common throughout the United States the mighty Angus is the most common breed of cattle. Angus were the only cattle I had first hand experience with and I have nothing against them, but I wanted something different and more manageable for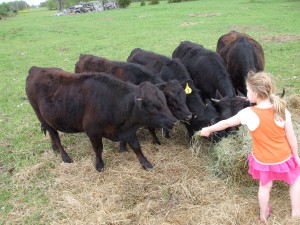 the small operation I was. My research led me to the Irish Dexter cattle.
Dexters come both horned and naturally polled (hornless). They come in three main colors Black, Dunn and Red. They are considered a multi-use breed and have been used as beef cattle, dairy cattle and oxen. They also come in different sizes and are either long or short legged. They are about half the size of an Angus and eat proportionately less feed. They are good grazers and a good match for the grass based grazing setup I had planned.
The Dexter advantage as I see it is multi fold. The smaller size makes them easier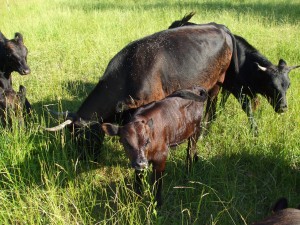 to handle. They sell for more money pound for pound than a regular breed. They can be a good light production dairy breed. They are in demand and are easy to sell. Their smaller size also makes them easier on the land. Acre for acre you can make more meat and money with a smaller breed of cattle like Dexters than the average commercial breed.
A drawback to having a dairy is the need to milk everyday. Since a Dexter isn't a high production dairy breed this problem can be solved with share milking. When you need to be gone for a day or two just let the calf handle the milking. This lets you enjoy more freedom.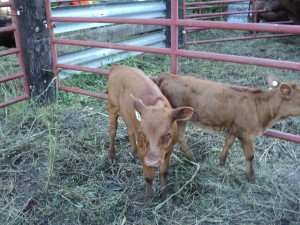 I bought my first Dexter cattle in 2012. My timing couldn't have been better as Missouri was suffering from a bad drought and cattle were on sale for those who had the hay.
My Starting Point
The year before I got my cattle I had bought the equipment to bale square bales. I originally had tried to get someone else to bale my property on shares with no luck. I decided if people were too lazy to make some money I would do it myself.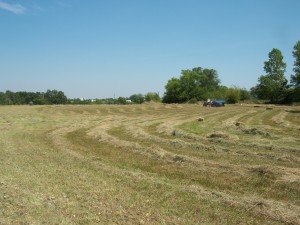 Eight hundred bales later I paid off all my additional equipment that first year and was a semi-experienced baler. The next year I started to pickup small fields and bale them on shares. My plan was to run as many cattle as possible on my land and having all their feed come from off farm is essentially an increase in the size of my property.
I sold the excess hay and kept what I would need for my own cattle. I was in a good position to buy and having just went full time self employed I was ready to add cattle. I don't know of a better investment than cattle, only land compares. Worst case scenario cattle will keep you fed that's something gold or silver might not be able to do.
Even though I had decided on Dexter cattle my first three cattle were an oddball assortment. A Jersey steer, an Angus heifer and a Holstein heifer. They were my teachers and I learned a lot.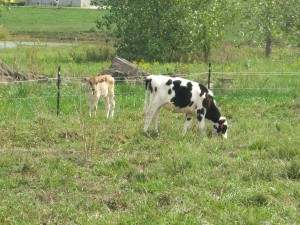 For my limited land there was no question that the best method for me would be an intensive rotational grazing system. I wanted to raise my cattle as naturally as possible on a grass diet. I wanted milk and good quality meat with as few expenses as possible.
My Setup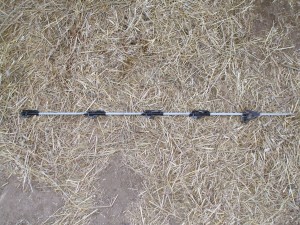 I have tried three different electric fence posts before deciding the Sunguard II step in fiberglass fence post with built in clips was the best for me. The runner up was the black poly fence posts. I like the Sunguard posts because of the clip design. The black poly posts seem to be weaker and the clip design is a pain. After taking down a big paddock my finger tips would be sore from pulling the clips back to remove the wire from the posts. I could just pull the wire out, but it likes to catch the small stainless wires when I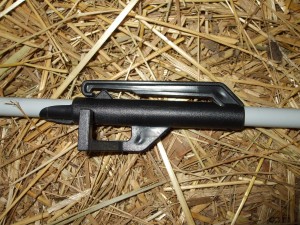 do that. The Sungaurd posts also have two clips on each spot, one on the front and another on the back. In case one clip is broken you have a backup.
One drawback to the step in posts is dry weather. When you go through a dry spell the ground can be so hard you cannot use the step in posts, and for that reason I keep some metal rebar posts that can be hammered into hard ground. It is a slower process than the step in post, but if you need to go to another paddock and the ground is hard it is an option.
I use a Parmak Magnum 12v fence charger and have a backup just in case. There are fancier fence chargers out there but this one does just fine and has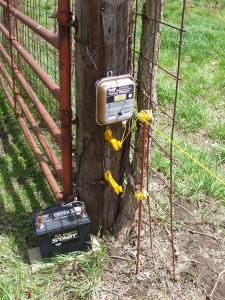 never let me down.
I originally thought that solid aluminum wire would be the most durable choice for electric fence wire. With some experience I have changed my mind about that. The aluminum wire is able to carry more electricity but fails in many ways when used in a rotating paddock system. It is harder to roll up, it likes to kink and it will often break when you undo the kink. It is also harder to splice then the other styles. I have since decided the fiberglass line with stainless wire strands works better for me. Now I just need to decide which is the best variety and brand of that wire.
For water I cut a 55 gallon drum in half and put a valve in it to automatically fill it. I put a spigot towards the bottom so I can just drain it to move when I switch to another paddock. I run 1/4 Poly hose to the valve. If I had more cattle this wouldn't supply enough water, but I am not there yet. I originally had the spigot on the outside, but the cattle would step on it, so I moved it to the inside of the tank. I cut a piece of pipe in half and screwed it around the float valve as a shield to prevent the cattle from hurting the valve. (I now use a 275 gallon IBC tote to transport water and several 300 gallon tanks in my setup as well as built in water drinks on the farm)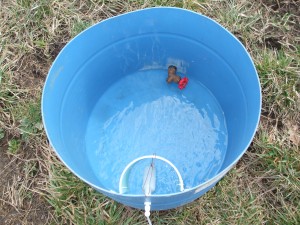 Youtube Video of My Cattle Waterer
Making Your Own Hay
I think you should be as independent as possible, and one way of saving money and being more independent is providing for your own cattle feed needs. I have heard many people say there is no way baling your own hay is affordable when you have a small operation, and they are often the same people who say there is no money in cattle. I am here to say it is just as important for a small operation to make its own feed as a large one.
I am going to give examples of how making your own hay will save and even make you money.
First never buy anything new when it comes to most things in life. I buy new undergarments and a few other things, but otherwise I let somebody else lose their money to depreciation. When it comes to equipment, land and other big purchases buy used and not abused. Used is fine and will save a small fortune.
I currently have 37+ head of cattle, by no means a big operation. By baling my hay I control the quality and gain some independence. Here is a breakdown of what you will need to bale your own hay:
A tractor, mower, rake and a baler.
Now we will look at price. I paid $1500 for my tractor. I can find 8N's and similar tractors for less or you can spend more if you have the money. I started with a Ford 501 sickle mower and anything similar is a great way to start. I paid $250 for the sickle mower and you can find similar ones for around $400. My rake is a 5 wheel rake and it needed several wheels when I bought it. I spent $150 for the rake and had to put several wheels on it at an additional cost of $300. A deal like that is hard to come by but older rakes can be had for around $700. My baler is a Ford 530 that I got for $450 which was a great deal. To find a similar baler would run around $900. You can always spend more money for equipment. I recommend spending some free time every couple days checking for deals and saving some money. Don't be afraid to travel if you are going to save money by doing so. I pulled my baler home from the Lake of the Ozarks. That is a long 150 mile trip especially when the return trip pulling a baler is limited to about 35mph.
Okay, lets figure you look for the deals and buy a nice WD 45 for $1200 which is the going price in my area. You buy a Ford 501 mower for $500. An old John Deere ground driven rake for $800 and an New Holland 68 hay baler for $1300. These are actual prices I have seen in the past month in my area for usable equipment, and that's not considering the cash offer I would have done cutting the price considerably.
So our total is $3,800 for everything needed to bale your own hay. That is less than the price of one modern piece of equipment. Now lets see how long it will take to pay off the equipment. In my area the average price for a square bale is $4. So we would need 950 bales to break even on the equipment not counting fuel, twine and other things you will need when working. In my area you can get that much hay from less than 20 acres, if you ask around you can bale other property and have all the hay you need.
If you look around you will probably notice a lot of people own land with nice fields and do nothing with them. I have picked up as many fields as I want in my area by offering to pay for the hay off these fields. I could easily find enough of these fields to bale for free in my area to feed all my cattle. That can easily save hundreds of dollars or thousands for those with larger herds. Isn't that worth your time?
In Missouri you can get permits to bale hay from state highway right of ways for free. This is a good source of hay for those living in Missouri or other states that have these permits. Check my blog for a more in depth look at this great source of hay.
You might also check the Free Book section for some cattle books.
Meet The Lewis Family Farm Herd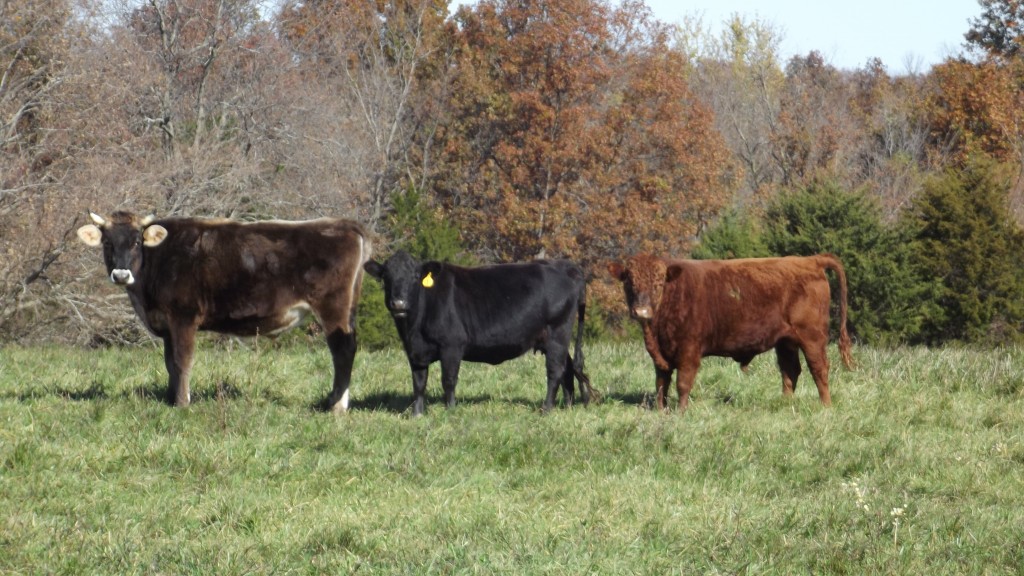 Current Herd Ear Tag #'s

LFF Open Herd Book 9-14-17
35 Head
#43 Lobo Clive Bull, Red Polled,  DOB:6-21-15, ADCA #037609. Homozygous Polled, PHA/Chondro negative.
Green Tag Goat Cow, Black Horned, Unregistered Purebred Dexter Cow,
D-1 J-S Ruth's Miz Amy Heifer, Black Polled, DOB: 3-22-16, ADCA #03965, PHA/Chondro Negative, A1/A2
D-2 J-S BB's Miz Bonnie Heifer, Red Polled, DOB: 6-13-16, ADCA #039658, PHA/Chondro Negative
#1 Lobo Diane Cow, Black Polled, DOB: 4-30-12, ADCA #030044, Chondro/PHA Negative, A2/A2
#2 Lobo Belle Cow, Black Polled, DOB: 3-15-12, ADCA #030041, PHA Positive, Chondro Negative, A1/A2
#6 Lobo Martha Cow, Black Polled, DOB: 3-14-12, ADCA #030043, PHA/Chondro Negative
#7 Lobo Jessie Cow, Black Polled, DOB: 4-1-12, ADCA #030042, PHA/Chondro Negative
#9 Sweat Pea Cow, Black Horned, DOB: Spring 2012, Unregistered Purebred Dexter
#10 Houdini Cow, Black Horned, DOB: Spring 2012, Unregistered Purebred Dexter, Daughter of Goat
#11 Milk Jug Cow, Dub Polled, Unregistered Purebred Dexter, Chondro Carrier
#12 Kansas Girl Cow, Black Polled, 1/4 Miniature Hereford and Dexter,
#13 Lewis' July Cow, Black Horned, DOB: 7-14-14, ADCA #039588, PHA/Chondro Negative, A1/A1, Daughter of #2&Arod
#14 Lewis' August Cow, Black Polled, DOB: 8-9-14, ADCA #037377, Daughter of #1 & Arod
#18 Olivia Cow, Black Horned, DOB: 10-9-14, Unregistered Purebred Dexter, Daughter of Goat & Arod
#22 Emma Rose Cow, Red Horned, DOB: 9-1-15, Unregistered Purebred Dexter, Daughter of Goat & Arod
#25 Lewis' Yolanda Heifer, Black Polled, DOB: 5-1-16, ADCA #040266, PHA/Chondro Negative, A1/A2, Daughter of #7 & Arod
#26 Lewis' Nero Bull, Red Polled, DOB: 6-1-16, ADCA #041516, PHA/Chondro Negative, A2/A2, Homozygous polled, Son of #2 & Arod
#29 Lewis' Naomi Heifer, Red Polled, DOB: 6-14-16, ADCA #040192, PHA Positive, Chondro Negative, A1/A2, Daughter of #13 & Arod.
#31 Vixen Heifer, Red Polled, DOB: 11-9-16, Unregistered Purebred Dexter, Daughter of Goat & Arod
#32 Conner Steer, Black Polled, DOB: 3-5-17, Son of #12 & Arod
#33 Maxwell Bull, Black Polled, DOB: 5-9-17, Chondro Positive, Son of #11 & Arod
#35 Umoo Bull, Red Polled, DOB: 8-23-17, Son of #18 & Arod
#36 Ribeye Bull, Dun Horned, DOB: 1-17
#59 CiCi Heifer, Black Polled, DOB: 12-10-16, Daughter of #10 & Arod
#60 Catherine Heifer, Black Polled, DOB: 12-30-16, Daughter of #9 & Arod
#61 Lewis' Rayana Heifer, Black Polled, DOB: 2-18-17, Registration Pending, Daughter of #6 &Arod
#62 Lewis' Rebecca Heifer, Red Polled, DOB: 2-18-17, ADCA #042173, PHA/Chondro Negative, A1/A2, Daughter of #14 & Arod
#64 Lewis' Ira Heifer, Black Polled, DOB #4-14-17, ADCA #042174, PHA/Chondro Negative, A1/A1, Daughter of #7 & Arod
#65 Lewis' Miss Red Heifer, Red Polled, DOB: 5-5-17, ADCA #042172, PHA/Chondro Negative, A1/A2, Daughter of #2 & Arod
#67 Polly Heifer, Black Polled, DOB: 10-16, ½ Angus
#68 Melisa, Red Polled, DOB: 5-22-17, Purebred Dexter, Daughter of #22 & Arod
#69 Lewis' Emerson Bull, Red Homozygous Polled, DOB: 6-22-17, Registration Pending, Son of #1 & Arod
#70 Molly Heifer, Dun Horned, DOB: 9-16, Purebred Dexter
#71 Shome Heifer, Black Polled, Purebred Dexter
My Cattle philosophy
Ideally every cow will have a calf every year. That calf isn't free, you had the expense of keeping the cow all year and the bull as well. That is why it is very important to cull non-productive cows. A good cow will give you a superior calf every year, a lesser cow will give you a calf every now and then and possibly pass that inferior trait to its offspring.
I expect my cattle to hold condition on good pastures and hay. The only additional item they get regularly is clean water and mineral. If they cannot hold their condition it is cheaper and better for your herd to cull these inferior cattle.
Items I will cull for include failure to calve, not holding condition, bad temperament and some smaller negative traits. My aim is to build a nice profitable herd that is easy to maintain, and to do so on an all natural setting with no grain.